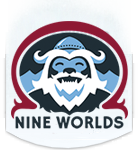 I'll be speaking at Nine Worlds Geekfest this weekend on the Religion track. I'm a late addition to replace on of the talks, so I'm not showing on the schedule. I'm now on the track schedule, and will be speaking in the 5pm panel on Saturday in room 32. I'm replacing 'Religious Origins of Modern Apocalypse' on the original schedule if you're using the Nine Worlds schedule planner to work out what talks to go to. (It's a nifty bit of kit, but as expected I really want to be in at least three places at once, including another panel while I'm giving my own talk.)
My talk is 'Wicked or Wonderful?: Religion in Gregory Maguire's Oz' and it'll be a 30 minute guide to religion in Oz in the books. I'll be discussing the necessity of religion for world building in fantasy novels, and how fantastic religion can tell us something about how it works in the "real" world. With luck I'll also be showing some stills from the musical and talking about how it relates to my academic interests.
I'll be around most of the day on Saturday and Sunday so if you see me do feel free to say hi. So far, my plan is to arrive on Saturday morning and to hit the Bifrost Cabaret in the evening. My tentative schedule looks something like this:
Saturday 8th
9:00am – 9:45am:      The Origins of London – A city's birth in legend and in reality
10:00am – 11:15am:   Two talks – Manipulative Bastards and Believable Clerics
11:45am – 1:00pm:     We Are Not Things – Wives, Imperators and Blood Bags in Mad Max:                                        Fury Road
1:30pm – 2:45pm:      Is Horror Evil?
3:15pm – 4:30pm:      In conversation with Naomi Alderman – Unlearning bias and                                                      creating better fiction
5:00pm – 6:45pm:     Two Talks: Divergent & Wicked: 'Virtue ethics in Divergent' /                                                      Religion in Gregory Maguire's Oz
At some point:            Bifröst – Cabaret and Disco
Sunday 9th
9:00am – 9:45am:      Dystopian London in Fiction – The Unreal City
10:00am – 11:15am:   Story Translation and Archaeological Museums – Changing                                                          environments, changing audiences
11:45am – 1:00pm:     Monsters and Theology
1:30pm – 2:45pm:      Two Talks: Order & Old Gods – What's the matter with Order? /
Can you teach an Old God New Tricks?
3:15pm – 4:30pm:      No More Ms. Nice Minority – It's time to shout
I suspect that I haven't given myself enough time to eat and rehydrate so some of the afternoon panels might disappear from my "to do" list on the day but that's a rough idea. I'm going to quite a few academic panels, as well as some just for fun. I hope to see some of you there, and for those of you who can't make it I'll try to take lots of pictures and report back.